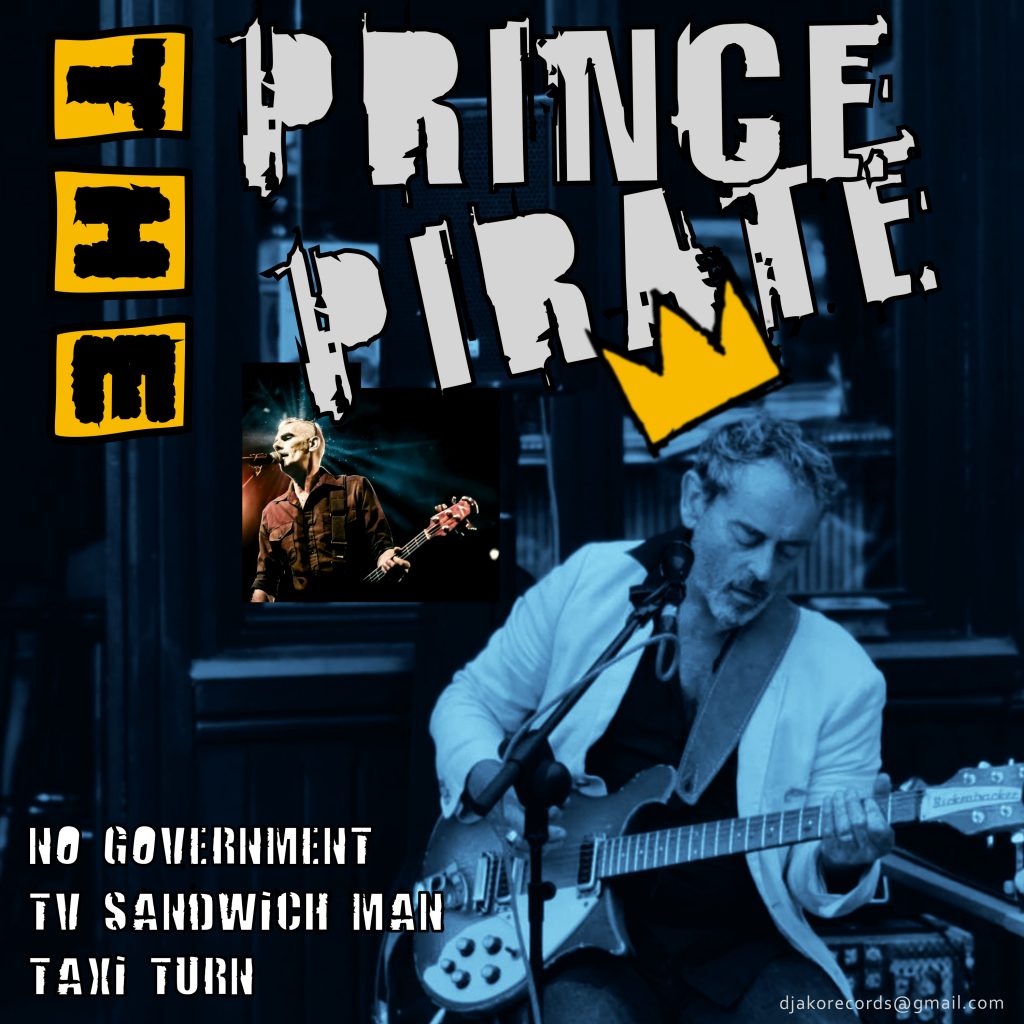 complete Bio in English Below.
 » The Prince-Pirate  » : Chansons rock Arty à la poésie surréaliste et instrumentaux cinématiques aux nombreuses influences //// Art rock songs with surrealist poetry and cinematic instrumentals influenced by :::egg::: British77 punk, Hindustani music, the musique concrete of Bernard Parmegiani… Marc Ribot, Arto Lindsay, & Dino Buzzati, Wenders, Hopper, Jack Vance, Antonioni…
Franck Dadure ( guitar/sing/prog.): Guitariste, compositeur, chanteur, Franck est à l'origine de nombreux projets live/Guitarist, composer, singer, Franck is at the origin of numerous live & recordings projects ( Fakir orchestra/les Saints sauveurs/Tobrogoï/Antenne en Fer…) et discographiques (Mélodies Lunatiques/ Tako Mitsu pour Radio France, Djako ( Opium House) pour EMI/ Wagram/ Pschent/éd.Dargent…) « The Prince Pirate » est son nouveau projet pour La saison 2024-2025.The Prince Pirate » is his new project for 2024–2025 season
Arnaud Giroux (Emigrate/Axel Bauer/Daran…) : Bass
Bassiste, producteur et compositeur, Arnaud a entre autre collaboré avec Daran, Axel Bauer, Axelle Renoir, Thiefaine, Paul Personne et également Richard Kruspe (Rammstein) avec qui il a fondé le groupe de métal industriel Emigrate.
contact is Georges Daniels (Djako) : djakorecords@gmail.com
_——__——__——__——__——__——__——__–
Eng. Biography  The Prince-pirate
The Art-Rock of the Prince-pirate
A  new stage band tailored to Franck Dadure, producer-musician oscillating between sweet madness and brilliant inspiration. The Prince-pirate is developing an ultra-euphoric and unusual musical potion based on electric guitar and surrealist poetry in a mixed English/French language.
Musician & Composer, Franck Dadure, sails between Paris and the Cotentin peninsula. At the origin of numerous projects, in perpetual search for new musical forms, composer for Radio France, and  severals internationals labels, producer recognized for his iconoclastic tastes, explorer-alchemist of sounds, his curiosity leads him towards unexplored aesthetics, sources of surprising imagination.
The house of Radio France has appreciated this creative wealth by signing Franck for two albums with his band The Fakir orchestra  recorded in the studios of the Maison de la Radio, Paris-France
The Prince-pirate is his new project since 2023.
Sound description:  Avant-garde à toi, improvised passenger on magnetic tape, airwave cosmonaut, Salvador Delay electric guitar, distorted Senza Voodoo, London/Tokyo night train, industrial poetry, hazardous sound experiments, trip-Hopper painting, cup of tea with the citizens of the attic, soundscapes with variable recording fields, dangerous Jeronimus Bosh analog machines, Jack Vance effects pedals, 220 volt bass lines (we see your skeleton, it's a masterpiece).* *
Follow prince-Pirate fb-page here:
——————————
Follow prince-pirate @ Instagram here :