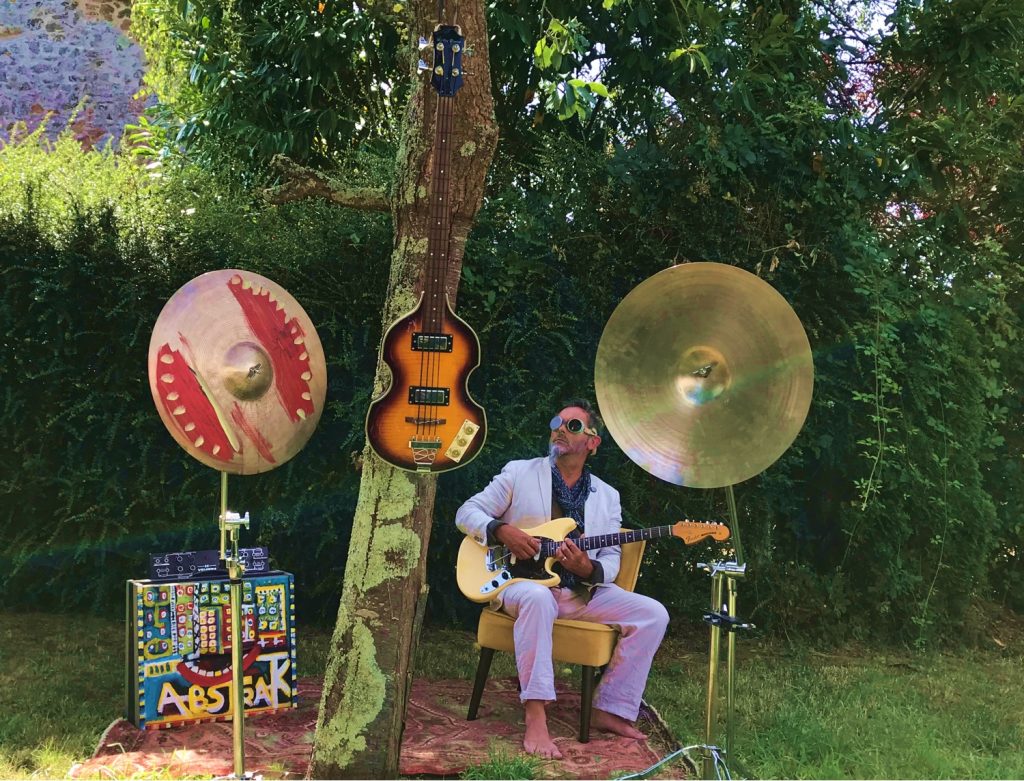 Sound description:  improvised passenger, underground soundtrack, hairy cosmonaut with Salvador Delay electric guitar, distorted Voodoo Sanza, night train between London & Tokyo, industrial electro-acoustic poetry,  Avant-garde-à-toi, sonic hazardous experimentations, trip-Hopper paint, Ambient cup of tea with attic citizens, warm atmosphere,  large recordfields soundscapes, unsafe Jeronimus Bosh Analog machines, Jack Vance effects pedals,  220 volts bass lines (we see your skeleton, it's a masterpiece of Art).
Franck Dadure, musician composer creator:
In an endless search for new musical forms, this multi-instrumentalist-composer sails between Paris and the Cotentin peninsula. At the origin of many projects, composer for Radio France, producer recognized for his iconoclastic tastes and without labels, explorer and sound alchemist, his curiosity leads him towards unexplored and innovative aesthetics.
Some works:
2 albums on record label « Signature » Radio France,
recorded in  les studios de la maison de la radio
and produced by Bruno Letort.
2012 : »Mélodies Lunatiques »
2015 « Tako Mitsu »
various:
Radio France/ France musique:
Theme music radio broadcast: « Tapage Nocturne » par Bruno Letort
Theme music radio broadcast: s « Dépêches Notes » (France Musique)
Theme music radio broadcast: FIP radio
Contes du jour et de la Nuit par Véronique Sauger (Rafio France)
live concert 5.1 @ Maison de la Radio et de la Musique,
France Culture: la Vignette (Aude Lavigne)
sound Installation pour la ville de Montpellier(Z.A.T/ Zones Artistiques Temporaires)
Tour in Europa/China/Canada
Labels /records/ publishers
Signature (radio France)
Pschent (compilations)
Wagram/Emi…
some gigs/concerts:
les tombées de la nuit Rennes (fr)
Escales improbables Montréal (CAN)
Ars Musica Bruxelles (BE)
Aux heures d'été Nantes Fr
ZAT Montpellier
Murs du son la Chaux de fonds (Ch)
China Tour Alliance Française (CN)
(Beijing-Tianjin-Jinan-Chengdu)
and many, many others.